A cloned copy of your hard drive protects your files and information. Creating a backup of your data is the best way to ensure that it will never be lost in a system crash, virus attack, or other types of disaster. By creating a cloned copy of your file system, you can rest assured that your valuable information is safe and secure.
In this article, I will show you how to create a cloned copy of your hard disk using a free clone software called DiskGenius to protect yourself from potential losses. The free edition of DiskGenius supports the cloning of physical hard drives such as SD cards, USB flash drives, HDD and SSD. For virtual disks, you may need to purchase the professional version.
Prerequisite: Having a clone disk, its disk size should be equal to or larger than the source disk.
Step 1: Download DiskGenius, install and start it on your Windows 10 or 11 OS.
Step 2: Select your source disk, right-click and select the backup partition table. 
In my case, RD2 is my raspberry pi's SD card (source / original disk), and RD3 is an empty SD card (clone target). Thus, I will back up the partition table of RD2.

Step 3: Restore the partition table on your clone target. 
For me, I will restore the partition table to RD3 (clone target).
If everything works correctly, the target disk will have a partition table identical to the original disk.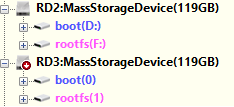 Step 4: On the source disk, select one of the partitions, right-click, and select clone partition.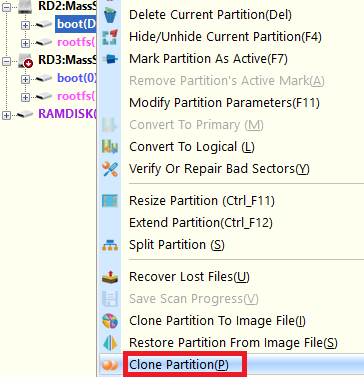 Step 5: Select the same partition on the clone target.

Step 6: Select copy all sectors and start the disk clone process.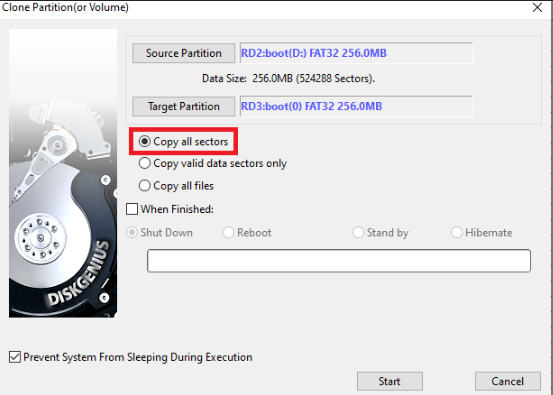 Step 7: If you have more than one partition, repeat steps 4 and 5 until all partitions are transferred to the destination disk. The cloning process may take a few hours.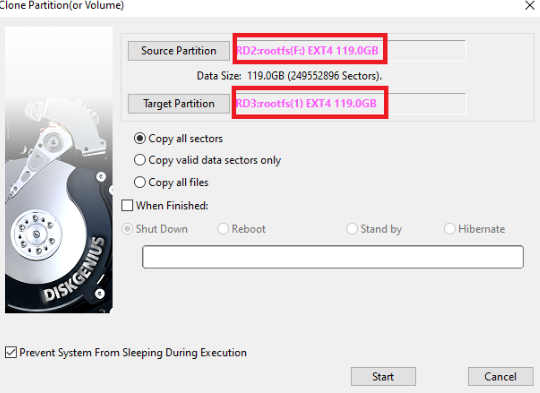 Congratulation, you have created a clone copy of your disk. You can start your device with your cloned copy to ensure it functions like your source disk. You may also perform data recovery from the clone disk to the original disk.