The previous article taught you how to install Nginx Proxy Manager using Docker Compose in Ubuntu 22.04.
Cloudflare provides a DNS proxy service which will hide your server IP address, adding an additional security layer to your website.
This article will teach you how to combine Nginx Proxy Manager with Cloudflare in order to access your internal web services via the Internet.
Prerequisite:
You have set up Nginx Proxy Manager on your system. Look at my previous article if you haven't set it up.
You have created a Cloudflare account.
You have changed your DNS from your registrar to Cloudflare.
You have a domain parked in the Active Zone on Cloudflare. You may visit Freenom to get a free domain if you don't have a paid one. 
Step 1: Move to Original Server under your domain's SSL/TLS section.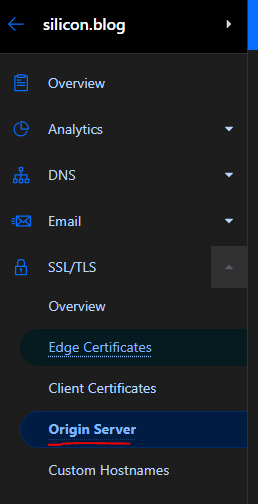 Click the Create Certificate button.

Step 2: Change the expiration time of your certificate. I recommend you to choose a duration longer than 1 year; otherwise, you may need to replace your SSL certificate on Nginx Proxy Manager frequently.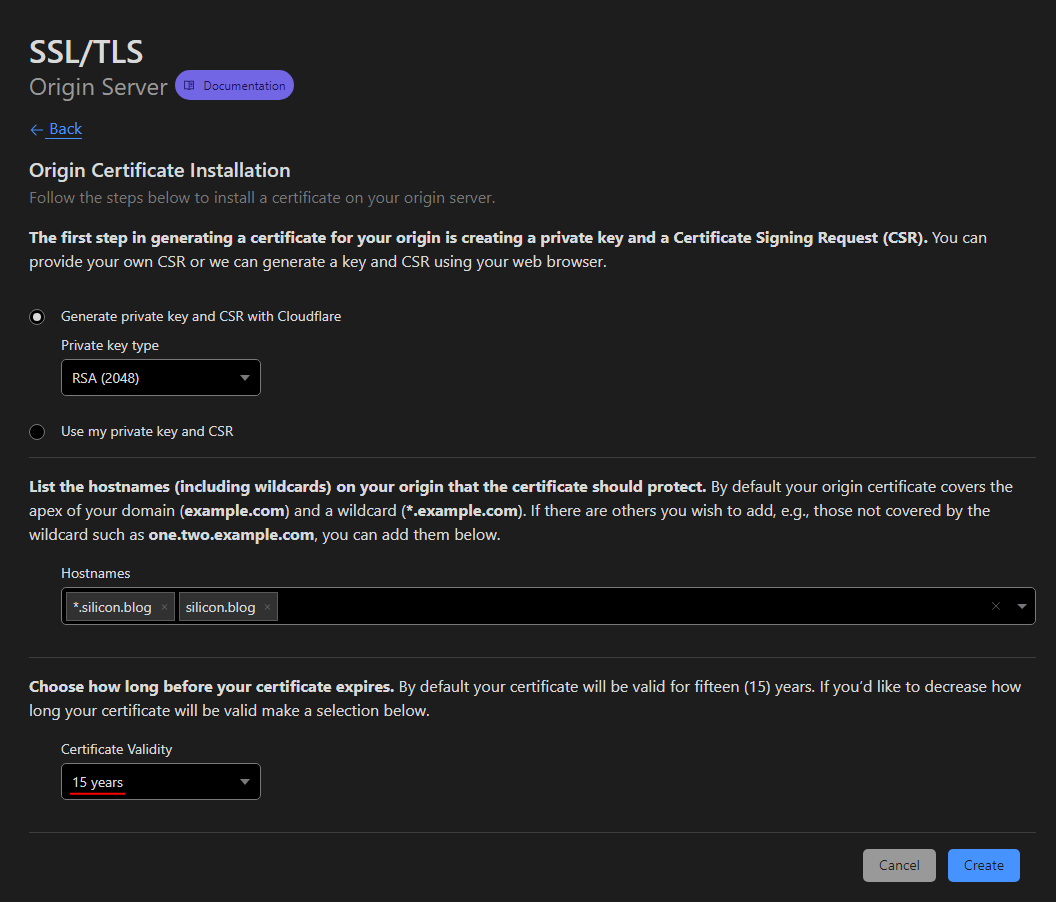 Step 3: Copy the text under Origin Certificate and create a file called cert.pem on your computer.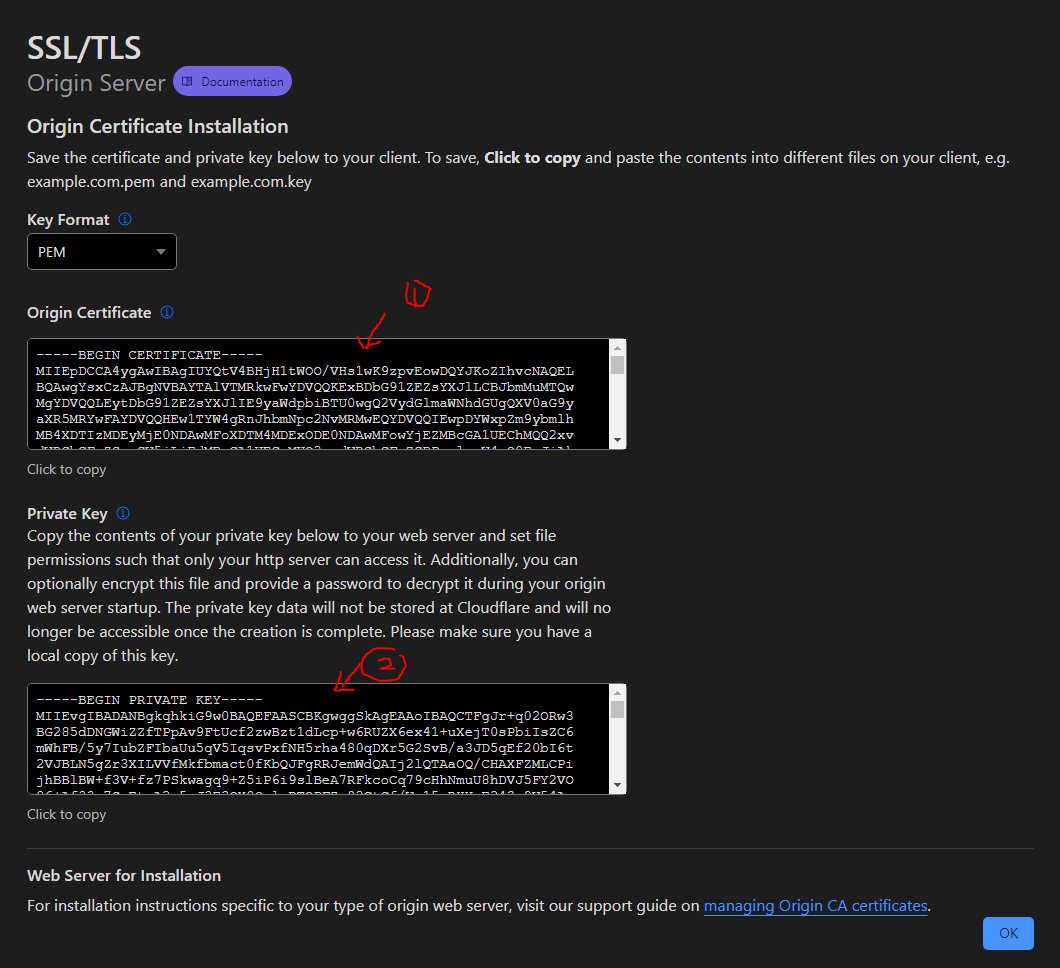 Cert.pem:
-----BEGIN CERTIFICATE-----
... ...
-----END CERTIFICATE-----

Also, create a file called key.pem on your computer. Copy the text under Private Key and paste it to key.pem. However, a modification needs to be made in order to make Nginx Proxy Manager recognise the Private Key correctly. Change the
-----BEGIN PRIVATE KEY-----
... ...
-----END PRIVATE KEY-----

to
-----BEGIN RSA PRIVATE KEY-----
... ...
-----END RSA PRIVATE KEY-----

on your key.pem.
Step 4: Go back to Nginx Proxy Manager and go to the SSL Certificates section. Click the Add SSL Certificate button. Select "Custom".

Enter the name as your domain. Upload key.pem as Certificate Key and cert.pem as the certificate.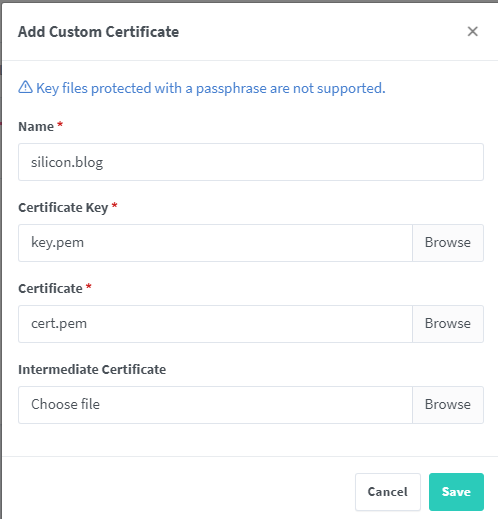 Click Save.
Step 5: Go to the Access Lists section on Nginx Proxy Manager. Click the Add Access List button.

Enter Cloudflare as Name.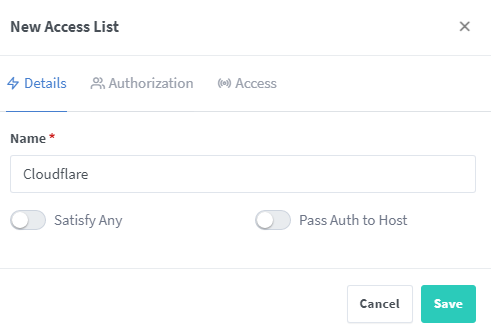 Click the Add button around 30 times.
Add Cloudflare IPs under the Access Section. You may visit this page for the IP Ranges used by Cloudflare. 
After entering any IP on the Access section, DO NOT CLICK the Add button again; otherwise, everything you input will be erased.
Press the Save button when everything is done.
IPv4
103.21.244.0/22
103.22.200.0/22
103.31.4.0/22
104.16.0.0/13
104.24.0.0/14
108.162.192.0/18
131.0.72.0/22
141.101.64.0/18
162.158.0.0/15
172.64.0.0/13
173.245.48.0/20
188.114.96.0/20
190.93.240.0/20
197.234.240.0/22
198.41.128.0/17

IPv6
2400:cb00::/32
2606:4700::/32
2803:f800::/32
2405:b500::/32
2405:8100::/32
2a06:98c0::/29
2c0f:f248::/32



Step 6: Move to the Proxy Hosts section on the Nginx Proxy Manager. Click the Add Proxy Host button.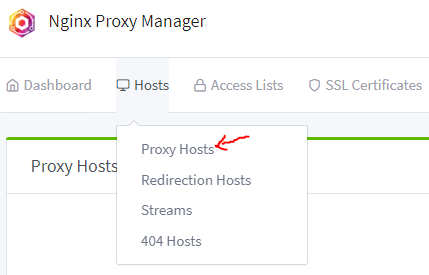 Step 7: Enter your domain name and press Tab to save.
Select HTTP or HTTPS as your Scheme.
Enter your Forward Hostname / IP and Forward Port.
Change the Access List to Cloudflare.
Do not click the block common exploits button at this moment. You must ensure you can access your website before turning it on.
For some web services, such as code-server, you may need to turn on Websockets Support. By default, it is turned off.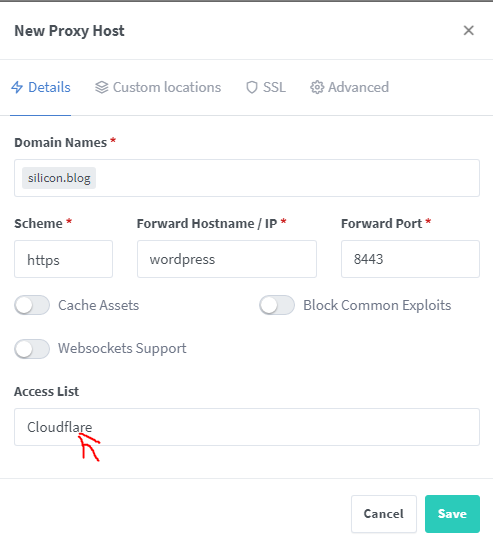 Step 8: Add your domain's SSL certificate to the SSL section. It is optional to enable HTTP/2 Support.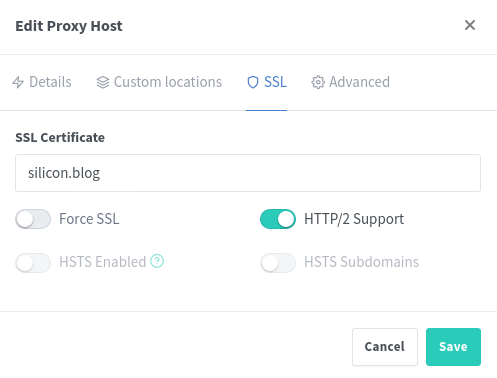 Step 9: Go back to your Cloudflare dashboard.
Add an A record to your domain if you are using a static IP.
Instead, if you are using a dynamic IP address and you want to use a DDNS. Create a CName record.
Remember to turn on the Proxied option. Click the save button to take effect. It may take at most 1 day to update your DNS record worldwide.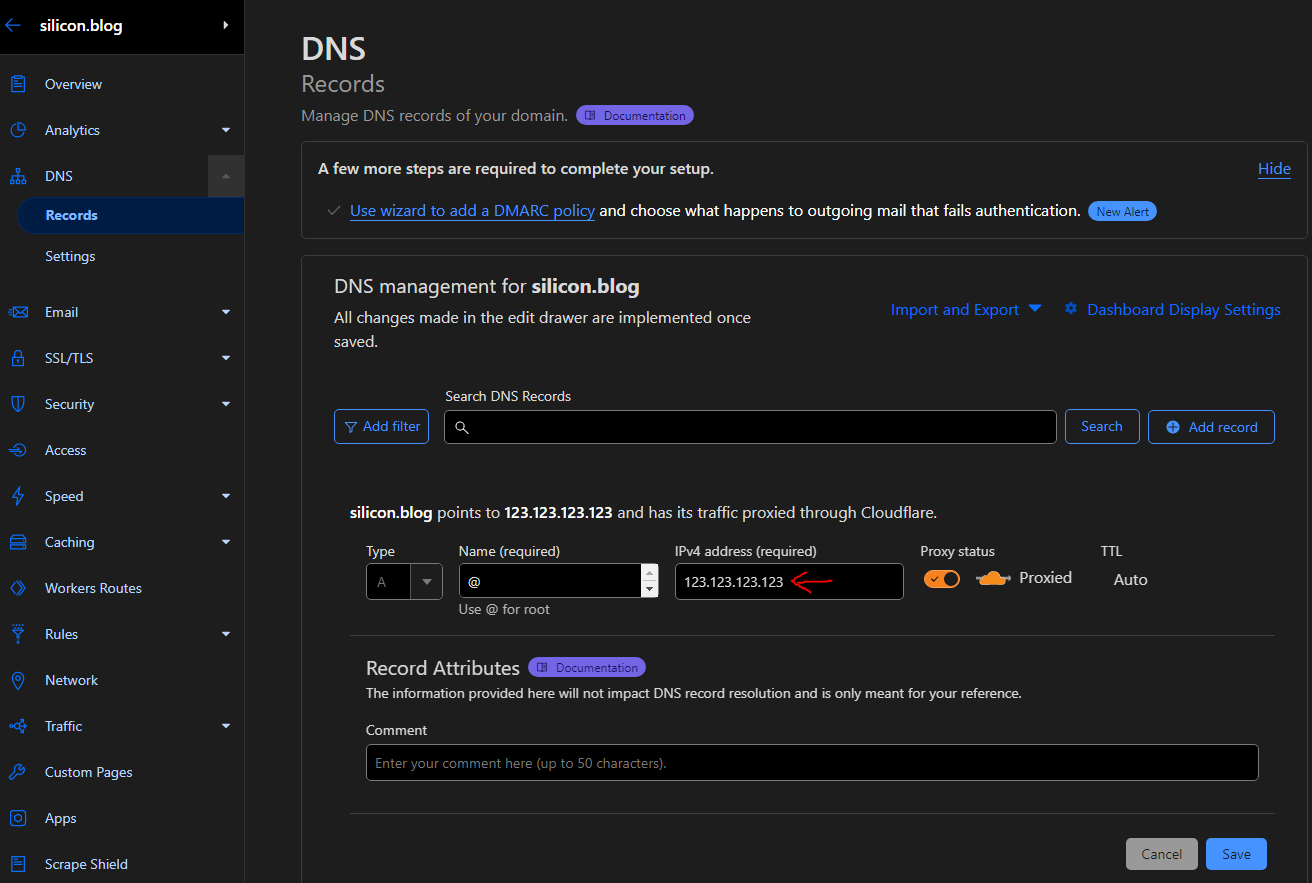 Step 10: Ensure you have forwarded port 80/443 to Nginx Proxy Manager on your router/ switch. Since different brands will have different configurations, you may need to Google it and set it up yourself.
If you are using Oracle Cloud, remember to configure your firewall to allow incoming traffic by
sudo iptables -I INPUT -j ACCEPT
sudo su
iptables-save > /etc/iptables/rules.v4
exit

If you can access your domain after a few hours, congratulations, you successfully combined Nginx Proxy Manager with Cloudflare!
Check out this article on self-hosting a WordPress and reverse proxy it with Nginx Proxy Manager.
Have a look of this article for how to hide your HTTP/HTTPS on the public Internet using Cloudflare Tunnel with Nginx Proxy Manager.
If you want more advanced techniques, try to configure Nginx Proxy Manager for load balancing or configure Nginx Proxy Manager to create a failover WordPress server on cPanel.