In the previous article, we learned how to create a crypto wallet on X-wallet and restore it on Chainweaver. However, we may need KDA as a gas fee to perform any actions on the Kadena chain. Therefore, in this article, we will learn how to obtain KDA from Kadena Testnet Faucet.
Step 1: After logging in to the Chainweaver, go to the top-left corner, then change the network to "testnet".

Step 2: Move to the menu on the left,  press "Keys".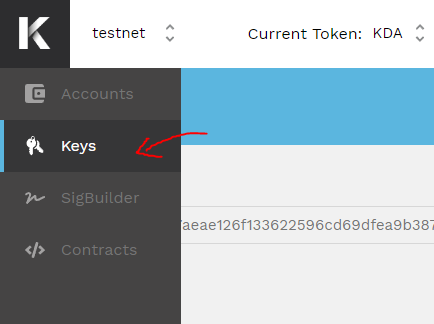 Step 3:  Press the copy button to copy your public key and hit the "Add k: account" button. You will be redirected to the main page, and the dashboard will display your selected account.

Step 4: Move to the Kadena Testnet Faucet. You may find this link on the Kadena discord. It seems its owner does not have enough time to update the SSL certificate, you may need to press "I understand the risks, take me there anyway" on your browser. After that, Click "Create and Fund New Account".
Step 5: Paste the public key copied from step 3. Remember to remove the "k:" prefix. After pressing the "+" button, enter a unique account name. In my case, the account related to my public key is "silicon.blog".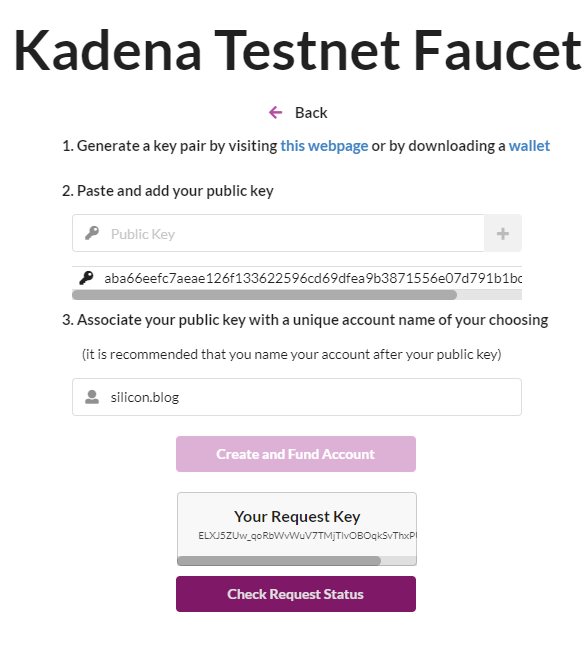 Step 6: Go back to the link in step 4 and hit the "Add Fund to Existing Account" button.  Enter your unique account name and click "Fund Account 20 Coins". After a few minutes, you will receive 20 KDA on the Kadena testnet.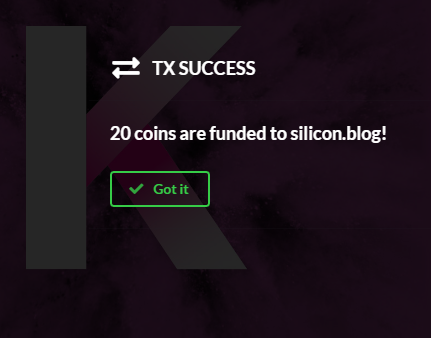 Step 7: Go back to Chainweaver, and press the "Watch Account" button. Add your unique account name, then click add.

Step 8: If you have created an account successfully, you will find 20 KDA on your account in Chain 1 (testnet).

Step 9: You may also access Kadena Balance Checker to verify your account balance. Remember the target Chainweb server is api.testnet.chainweb.com,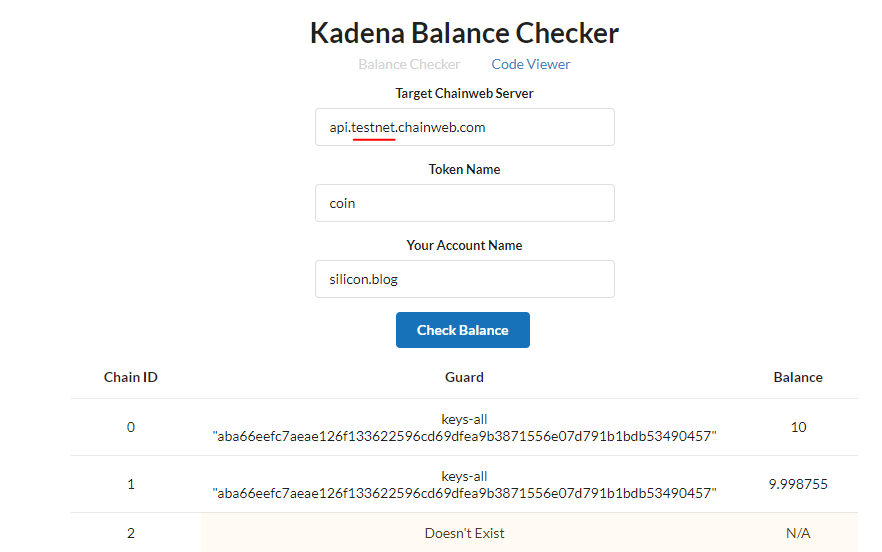 Now you have obtained adequate KDA on the testnet for testing. Next, we can perform some testing for fun. In the following article, I will show you how to complete a cross-chain transaction on Kadena using Chainweaver.
If you think this article is helpful, leave a comment below. 🙂
You may also sponsor this website by sending some KDA to this address: k:e95a044488f4b6ced42ab9be0268ffe530e47401b24b8c29bfeba5942e5da275.